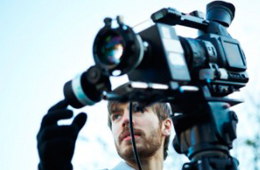 The conversation on crowdfunding continues to build—it seems everywhere you look, there's a new case study, a new controversy, a new discussion about what's quickly becoming film's most viral trend.
In a nutshell, crowdfunding is a way for audiences to get involved in the production of a film without too much financial strain, therefore making it an interesting alternative for filmmakers to gain funding. What's more, it seems to work!
Since crowdfunding is such an advantageous model, filmmakers must be jumping on the wagon, right? It's a win-win, so they have to be!
According to surveys conducted by Indiewire staffers at two well-known festivals this year, however, that doesn't seem to be the case. The results of one survey showed that just under half of the 2013 SXSW filmmakers who responded to the poll used crowdfunding to raise at least part of their film budgets. In addition, of the directors that supplied the percentage of budget raised through this method, few indicated that they raised over 50 percent of the funds that way.
Less than a third of the filmmakers at the 2013 Tribeca Film Festival who responded to Indiewire's survey raised their money through crowdfunding platforms. Of this group, Kickstarter-funded projects were the majority by far, with a few films receiving funds from campaigns on IndieGoGo, as well. And while most of those filmmakers did opt to reveal the percentage of funds raised through crowdfunding, again, most only funded smaller portions in that way.
While the crowdfunding buzz grows, festival filmmakers haven't adopted the practice 100 percent, at least not yet. And while without asking every single filmmaker for their motivations for using (or, more pertinently, not using) crowdfunding, it's hard to understand the meaning of these statistics.
Possible Motivations for Less Crowdfunding
While crowdfunding presents a golden opportunity for indie filmmakers who don't have the resources to get funding right out of the gate, there is a potential disadvantage for each and every advantage. To be sure, some filmmakers, like Zach Braff, turn to crowdfunding for the freedom it provides to do a project their way without the limitations of demanding producers.
That's a double-edged sword, though, because putting your project onto a Websites like Kickstarter can spark—and has, in the past—heated discussions about how you are using your funds and whether funding in that way even furthers the greater good. In many ways, going with crowdfunding instead of the traditional route of funding is really sticking your neck out to the public, and not all filmmakers may be comfortable with that.
Other more established filmmakers have publicly denounced the platform, saying that they'd feel like they were taking money from people "who actually need it." (Which you'll recognize, by the way, as one of the biggest arguments against celebrity presence on Kickstarter and similar crowdfunding sites.)
Of course, all these setbacks don't even figure into the equation if your campaign fails to meet its specified goal, which is a setback in itself. This article at Filmmaker Magazine says that 95% of crowdfunded projects fail to meet their goals. As per Kickstarter regulation, if your project doesn't reach its goal on time all the funds must be released back to the backers who provided them.
The author of that article insists that large donors are the key to efficiently funding a large-budget project—and although "large-budget" is a relative term within the film world, compared to other crowdfunded campaigns films are in general more likely to require more money for production.
"My prediction," the author writes, "is that when you have a project that reaches the goal of $1 million, you will have already inherited this responsibility and DVD screeners and tickets to the festival premiere will not be enough to satisfy the larger donors in your group. And you'll need many of these larger donors, because you can't get to $1 million with $100 donations in thirty days, or whatever the time limit is to reach your goal."
Truthfully, though crowdfunding presents indie filmmakers with a lot of opportunities they might not have otherwise, it's not without its flaws. Perhaps film festival veterans know the industry well enough that they shy away from crowdfunding until it becomes a more stable resource for film production.
A Potential New Paradigm in Crowdfunding
That said, of course, there's no denying that the crowdfunding trend has nowhere to go but up, at least for now. Think of the glass half full instead of half empty. Sure, just under half of SXSW filmmakers turned to crowdfunding for their projects, but almost half is still almost half, and with the way things are going, it's hard to imagine that figure not rising as time goes on.
Crowdfunding continues to show itself in new ways all over the film industry. This year, in fact, San Francisco will become home to the inaugural International CrowdFunding Film Festival (ICFFF). The festival will be an ideal spot for filmmakers who want to crowdfund their projects to network, make connections and receive support for those films.
Sydney Armani, publisher at CrowdFundBeat, says of the festival, "I see in these directors, writers, and cinematographers, the same core passion for innovation. They are not only artists, but more importantly, entrepreneurs–they are seeking to touch the world and make a difference through their films. We know of their struggle to find financial backing and I believe crowdfunding will be the answer."
Right now, we don't know a whole lot about it, but we're interested to see where that festival will go further on down the line, or even at this time next year. Maybe the number of filmmakers using crowdfunding at other festivals will also have changed dramatically. Only time will tell, but in the meantime, those of us at the Lone Star Film Society hope to continue the growing conversation.
Leave your opinions on and experiences with crowdfunding below, and don't miss our other posts on crowdfunding and much more at our B1ST marketing and distribution blog.